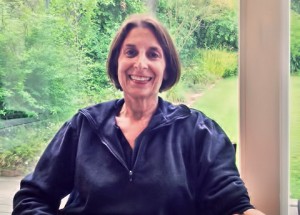 Ruth has been working as a speech pathologist and language and speech therapist for over twenty years. She is currently a clinical supervisor at San Francisco State University.
Speech Pathologist, San Francisco Bay Area
Ruth has worked with all ages, and in a variety of settings, including special education administration. Besides her private practice, she worked with at-risk high school students and preschool students in schools. Prior to that she was the Director of Speech Services at the Hearing and Speech Center in San Francisco, a non-profit serving the Bay Area.  She has also worked with students with learning disabilities and reading problems.
Speech Language Pathology Specialties
Ruth works with people of all ages, preschool children through adults. She has experience and expertise in phonology/articulation, language disorders, stuttering, voice, accent reduction, accent modification, child language, articulation, adult language, motor speech, apraxia, phonological delays or disorders, auditory processing, language delays/disorders, pragmatic/social language disorders, childhood apraxia of speech, tongue thrust, central auditory processing disorders, communication, and language. Ruth is certified and licensed  for individualized treatment, fluency, motor speech, articulation, and phonology.
Before becoming a speech pathologist, Ruth taught French and Music. She has some fluency in German and Hebrew, as well as considerable fluency in French. In her spare time, Ruth enjoys spending time with her adult children, and grandchildren and loves music, plays piano, and enjoys baking, singing in the SF Choral Society, hiking, and exercise.
Education
1991– San Francisco State University, Clinical Rehabilitation Service Credential.
1998-2001– San Francisco State University. Enrolled in M.A./credential program in Educational Administration. Interned at McAteer High School with Assistant Principals Jan. – May, 1998. Passed Praxis exam for school administrators.
Jan. – May, 1998. Passed Praxis exam for school administrators
1982-1989.– San Francisco State University, M.S. in Communicative Disorders.
1972-1973.– University of California, Berkeley, Elementary and Secondary Teaching Credentials with emphasis in teaching French and Music.
1967-1971. University of California, Berkeley, B.A. Major in French.
Work Experience
Oct. 2007-Present- 60 % speech/language pathologist South San Francisco High School.  Restructured delivery of service model to include some in class instruction as well as tailoring needs of students to curriculum material. 2007-Present.   Part time private practice serving preschool through adult diagnostics and therapy, including articulation, language, stuttering, and voice. August 2002-2007—Director of Speech Services, Hearing and Speech Center of Northern California, San Francisco. Duties included:
Hired and supervised in-house speech therapists
Organized, publicized, and arranged for in-service training, arranging continuing education credits for speech pathologists.
Presented Power Point lectures to hospital pediatric grand rounds at Kaiser and UCSF.
Served in advisory capacity to High Risk Interagency Council.
Provided in-service training to various local agencies.
Worked with other agencies providing similar services to S.F. Hearing and Speech in order to develop appropriate and effective service delivery models.
Did outreach to school districts, physicians, private/parochial schools, other speech therapists in private practice, and educational therapists.
Addressed Council for Family Advocates through SF Mayor's office re: accessing services for families who fall through the cracks.
Lectured at UC Extension class for Educational therapy on Auditory Processing
Was invited to be the representative speech pathologist on a monthly panel of the Association of Education Therapists.
Represented the Center at Support for Families symposium; Networked with other professionals and gave info. about the Center
Worked with DSS representative to establish a speech/language evaluation format
August 2000-July 2002—Speech/language pathologist for SFUSD. Responsible for screening and assessments, Pre K through 12th grade.  Duties included report writing, coordination and administration of IEP meetings.
August 2000-June 2001. Special Ed/State & Federal Budgets coordinator at McKinley Elementary School SFUSD. Responsibilities include recruitment and hiring paraprofessionals, compliance for site plan, liaison with agencies and district representatives, presiding at IEP and SST meetings, setting yearly schedule for IEP meetings, review of pupil service folders, coordinator of mental health referrals, liaison with transportation and placement, educating Special Ed faculty
Oct. 1999-June 2000 SFUSD. Speech pathologist/Coordinator of Speech/language services to Non Public Schools(NPS).
Sept. 1997-Jan. 1998. Program Specialist (50%) San Mateo Union High School District. Replaced tenured person while she was on sabbatical. Duties included finding placements for students with difficult to implement IEP's, acting as liaison to county mental health, liaison to therapeutic day school, and collecting and analyzing data for the coordinated compliance review self study.
Oct. 1996-Oct. 1999. Volunteer at Community Alliance for Special Education. Duties included case reviews at staff meetings, educational consulting to parents whose children need appropriate special education services, and attendance at IEP meetings.
Sept. 1993- Dec. 1996 Speech-language pathologist, San Rafael City School District (.40) and Mill Valley School District (.40) general speech-pathology practice servicing first through eighth grade in articulation, language, second language acquisition, cleft palate, and voice.  Activities included providing in-service to faculty and serving as member of IEP team responsible for doing evaluations, sharing test results with parents and planning individual treatment plan as part of a professional team.
Oct. 1992- Feb. 1993. Independent contractor, servicing Sunny Hills School, San Anselmo, CA. Speech Pathologist for severely emotionally disturbed adolescents with language disabilities.
1991–1992. San Mateo County Office of Education, Itinerant Teacher for Integrated SDL (Severe Disorders of Language) Program working with high school students, including teaching survival skills and helping students in subject areas to pass the GED.
1990–1991. Easter Seals Society, Burlingame, California, Staff Speech Pathologist. Caseload included pre-school language, adult voice, stuttering, individual stroke and stroke groups, head injured and adult neurogenic population. Organized summer speech program for pre-school and school-age children.
1974-1979. Teacher for high school French and English, middle school German, and elementary school general music.
Sept. 1995 – Feb. 1996. Co-chair, Open House Committee at Lick Wilmerding High School.
Professional Organizations
Community Activities
2005-2010 Board Member-Congregation Beth Sholom – Instituted Caring Community for synagogue and has been an active member doing outreach to homebound and ill congregants; involved with membership outreach
2000-2005 Member Chamber Musicians of Northern California
1999-2015 Member San Francisco Choral Society
1990-June 1995 Member of the Board of Directors, San Francisco Community Music Center.
1991-1997 Member of the Board of Directors, Brandeis-Hillel Day School (member of the Personnel and Recruitment/Retention Committees).
1988-1990 President, Parent Association, Brandeis-Hillel Day School. As president instituted instrumental music program, hot lunch program.